HEY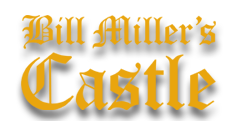 Just can't thank them enough for a fantastic night!


The owners were eager to help and please, the caterer served delicious food and prepared an amazing gluten free meal for myself (I'm SO grateful)...
Possibly the best part of all was our wedding coordinator Lisa. She was a joy to work with and extremely knowledgeable.
The facility is unbelievably beautiful and unique.
We did our ceremony outside and it was gorgeous. Fantastic staff and Cherri did a wonderful job of organizing everything.
Absolute wonderful experience.
Your wait staff was amazing attentive to everything… Thanks again for making our daughter's wedding one of the best days of her life.
Lisa Miller handled our wedding and was there for my every need! Very reliable, flexible, and easy to work with!
The staff were fantastic, the location was gorgeous and the food was amazing!! I can't say enough kind words other than I had the most happiest day of my life at the Castle!
I had my wedding here at Bill Millers Castle last week, and it was definitely a dream come true!